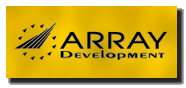 Contract for DeLiberation™ Release 1.0
Ongoing Consultative Service
---
ARRAY Development offers the breadth of consulting expertise and a portfolio of software modules to unleash the full potential of Internet based electronic publishing and commerce, together with private "intranet" solutions.
To start an Internet/Web based DeLiberation™ Ongoing Consultative Service with ARRAY Development, first please print from the screen this draft Contract form. Please mark on it the service options that you would like us to support, specify the required duration of a contract and fax this form back to us.
---
Notes
1. This information cannot be released to any third party or used by the Client for the development of RFPs or any similar bidding documents without the explicit consent of ARRAY Development.
2. The Client is responsible for providing texts and all required translations of materials to be placed on the Consultative Committee's Web site. The Client is also responsible for acquiring rights to use any graphic or textual materials it places o n the Consultative Committee's Web site.
3. Any use of the DeLiberation™ indicates that the user agrees that the DeLiberation™ software developed by ARRAY Development will be clearly marked with corresponding credits to ARRAY Development.
---
Contract Form: DeLiberation™ Release 1.0
Client Organization:
Address: ____________________________________________
Contact: ____________________________________________
Email: ____________________________________________
Phone: (___)__________ Fax: (___)__________
Required contract duration:

6 months

_________ years
Standard DeLiberation™ Service
____Open or _____ Password Protected (up to _______ participants)

Private email list server (included)

Central archive of email contributions (included)

Service technical maintenance (included)
Enhanced DeLiberation™ Service
Includes the Standard Service plus the following elements:
Core:

Web repository (up to 200 standard pages)

Moderator Counseling

Use of templates

Maintaining members lists

Added-value options:

Implementing logical hypermedia links

Satisfying government requirements

Transferring documents to HTML (up to _____standard pages)

HTML training.

Links to other relevant Internet sites

A special mailing list for communications with the project team

A text search engine

Access statistics engine

Web utility for administering list commands

Password monitoring

Use of the Moderator's Editor

A guestbook

Interactive feedback forms (up to ____ forms)

Questionnaires and surveys
---
DeLiberation™ Release 1.0
DeLiberation™ is an easy to use, secure and robust ongoing team collaboration and consultative service that helps organizations to radically improve the quality and timeliness of decision making with both internal staff and external stakeholders. It supports working groups and consultative committees which must review, in an iterative way, action plans, policy statements, administrative directives or budget documents.

The principal attractions of DeLiberation™ are flexibility, security and a results-oriented focus. It is a "minimalist system" that is very simple to comprehend, fast to set up and economical to maintain. It uses mainstream Internet/Web tools, often already installed on the participant's PC. It saves substantial resources, especially for organizations that must consult geographically dispersed staff and other stakeholders.

DeLiberation™ Release 1.0 includes three distinct service packages assembled for the convenience of our users. The list of functions and features presented in each service can be appropriately adjusted to reflect your organization's unique needs and requirements.
Standard DeLiberation™ Service
Standard DeLiberation™ service includes setting up and maintaining for the Client the following basic components:
Private email list server. DeLiberation™ is built around an email list server that supports email interaction between participants. Email sent to the list is automatically distributed to all subscribers. The Consultative Committee's list can be either public (open to everybody) or private (password protected). Unlike other consultative services, DeLiberation™ does not force users to buy a new computer, to install special software packages or to learn new technical skills. Busy participants who want to follow the discussion without being actively involved do not necessarily need full Web access. Access to any LAN or modem based email system linked to Internet is all that is needed to participate at the initial stage.

Central archive of email contributions. DeLiberation™ includes a specially modified Internet/Intranet engine which automatically translates email into the Web format. The engine creates a "central archive" of all the email contributions which are stored in shared hypertext database format. The records can be sorted by author, subject, thread or date. This gives participants ready access to necessary information without having to organize and maintain it themselves. The engine is maintained by ARRAY Development on a separate Consultative Committee's Web site. The Web site access might be open or password protected.

Service technical maintenance. ARRAY Development manages all the technical details of ongoing consultations. Our support includes maintaining a list server and setting up the password protected Web site. These critical services relieve the moderator of highly technical and time consuming tasks such as software maintenance, administering password allocation and Help Desk support. We use sophisticated tools and processes to assure security and robustness of maintaining the email list and Web server.
Enhanced DeLiberation™ Service
The Standard package can be readily expanded to integrate a variety of enhanced Internet/Web tools and interactive services which can make the consultation process more productive and more focused on consensus building among participants. The critical core elements of Enhanced DeLiberation™ Service are:
Web repository. This is the Consultative Committee's own password protected Web repository for drafts and final documents. Up to 200 standard pages are included in the basic fee, and additional HTML page development can be negotiated. A page is 3 kilobytes of text or a graphic file. We support the Moderator in maintaining and expanding documents as the discussion progresses. Distributing documents as attachments to email messages is inconvenient, unsafe and technically challenging even to experienced users. Placing background documents and archives on the DeLiberation™ Web server eliminates this concern. Documents become easily accessible and there is no reason to dump large files into every participant's mailbox. The Web repository also makes accumulated contributions easy to sort and search. The Web repository could be bilingual or multilingual and, depending on the client's requirements, may include logos, mission statements, What's New and Frequently Asked Questions (FAQ) pages, and greetings. These and other textual and graphic elements help communicate corporate identity, a professional look and a business feel for the site. The DeLiberation™ system's graphic interface is intuitive and convenient to use but there are no superfluous graphics to download and interactions remain quite fast. Our Company makes extensive use of special tools to assure quality of user interaction and integrity of HTML documents, graphics and links.

Moderator Counselling. One of the most important elements in the Enhanced Service, package is the advice and support we provide to the Moderator to ensure a successful outcome of the consultations. We help the Moderator stimulate discussions and structure the online conference to facilitate rapid consensus building among the participants. Many online forums fail to produce useful results because they lack such a clearly defined decision making arrangement. With DeLiberation™ conference organizers do not have to worry about technical issues and very labor intensive support of delivery infrastructure to participants. This leaves them free to concentrate on their critical role in running the actual discussions.

Use of templates. The Enhanced Service provides the Moderator with easy to use electronic templates of typical forms and online announcements needed to define, launch and sustain discussions. We even help fill in these forms. Our templates are designed to structure the Moderator's involvement, to ensure maximum efficiency and to minimize administrative email traffic to the participants. One advantage of an intuitive, user-oriented service is that there is no need for lengthy participants' manual.

Maintaining members lists. Membership will change over time, especially in larger Consultative Committees. The Enhanced Service provides support for maintaining well-organized membership lists. This services helps facilitate the private interactions between committee members which can be crucial for consensus building. The option of structuring the list as a database is available.

Other added-value options may also be included in an Enhanced DeLiberation™ Service package at the request of the client:

Implementing logical hypermedia links, modifying documents/links for text browsers and integrating email links.

For our government clients, supporting integration of French documents and satisfying TBS, GTIS, PSC, IC and other government requirements and regulations in Canada and abroad.

Transferring documents from proprietary/text formats to HTML and structuring them in a consistent format appropriate for the Consultative Committee.

HTML training.

Providing links to other relevant Internet sites of your choice.

Maintaining a special mailing list to be used by the Moderator for direct communications with the ARRAY Development's project team. This list facilitates project support and quality control.

A site wide text search engine.

Access statistics engine providing up to the hour comprehensive site reports. These valuable site management reports can be made public or private, at your discretion.

Special Web utility for administering email list commands.

Special security utilities (e.g., password monitoring).

Special utility for selective server directory access and HTML editing by the Moderator. This is particularly important in the case of a Moderator who is a novice in the use of Web/HTML technologies.

A guestbook and interactive feedback forms, questionnaires and surveys.
Restructuring the Organizational Web Site
This executive service is designed for organizations that do not have a functional Web site or that have sites that do not really contribute to their survival and evolution. ARRAY Development helps its clients to:

Redefine mission critical functions and applications for operating in the new paradigm.

Implement a functional and visible Web site that effectively establishes their organizational identity on the Internet or an intranet.

The restructuring process relies on dynamic Internet tools such as those listed above as part of the Enhanced DeLiberation™ Service. These tools are essential for electronic publishing, electronic commerce and online communications.

The following additional services from ARRAY Development can help to make your Web site an integral and active contributor to your organization's goals and objectives:
Homepage and Web pages focused on improving critical corporate functions and promoting your business.

Graphic images, thumbnail and full size. Images could be submitted as electronic graphic files, pictures or photos to be scanned.

Databases and directories updated by the users, as well as catalog of products and services.

Maintenance of promotion pages to ensure they are periodically revised or replaced.

Automatic emailing of notices, catalog updates, special promotions, and initiatives to your corporate mailing lists.

Use of multimedia. Navigatable maps, speeches, voice greetings and film clips of executives and staff help make a Web site more engaging and personal.

Client feedback log/action utility.

ARRAY Development can arrange to publicize your Web site across the lnternet on the leading directories and in relevant newsgroups.
---
Typical Program Costs and Timeframes
Service Development Lead Time
Standard -- 3-5 Weeks
Enhanced -- 5-7 Weeks
Restructuring -- 7-9 Weeks
Initial Cost, thousands
Standard -- $5 - 15
Enhanced -- $10 - 25
Restructuring -- $20 —
Monthly Maintenance
Standard -- $500 - 1000 (depending on the number of participants)
Enhanced -- $500 - 1000 (depending on the number of participants)
Restructuring -- Custom Quote
---
What Do We Need From You?
The DeLiberation™ consultation framework system has been carefully designed to minimize resources, training and time required from the moderator, participants and the Client organization. To use DeLiberation™ you will need only to:
Identify the individual to act as Moderator of the Consultative Committee. Provide the Moderator with a reasonable amount of time to work with ARRAY Development to fill in the templates that will define the service.

Identify all elements of the Enhanced DeLiberation™ Service you wish to offer.

Supply ARRAY Development with a list of approved Consultative Committee's participants and guidelines for issuing passwords to potential participants.

Provide text (with translations as required) and graphics you wish to make accessible to Consultative Committee's participants. Note that supplying text in electronic format can reduce both the cost and lead time required to make the DeLiberation™ consultative framework operational.

Identify appropriate project milestones and time limits. A payment plan based on project milestones will be established as part of the contractual terms and conditions. An appropriate first payment will be required with the contract signing (30 - 50%).
---
DeLiberation™ Service Agreement Terms
1. The DeLiberation™ Service (the "Service") consists of computing and information services and software, information and other content provided to the "Client" by ARRAY Development ("Vendor"), as well as access to services, software, information and other content provided by third parties on Internet (collectively, "Third Party Content"). These terms and any Operating Rules published over the Service constitute the entire and only agreement (collectively, the "Service Agreement") between Vendor and Client, including Client's designated users with respect to the Service.
2. Client shall pay on time any agreed set up and monthly fees and applicable taxes to the Vendor.
3. Client agrees to indemnify DeLiberation™ against liability for any and all use of Client's account.
4. Client expressly agrees that use of the service is at Client's sole risk. The reliability, availability and performance of resources accessed through the Internet are beyond Vendor's control and are not in any way warranted or supported by Vendor or its third party contractors. Neither Vendor nor any Internet information or content providers, service providers, licensors, employees, or agents warrant that the service will be uninterrupted or error free; nor does Vendor or any of its information or content providers, service providers, licensors, employees or agents make any warranty as to the results to be obtained from use of the service. Neither Vendor nor any of its information or content providers, service providers, licensors, employees or agents shall be liable for any direct, indirect, incidental, special or consequential damages arising out of use of the service or inability to use the service or out of any breach of any warranty. Client expressly acknowledges that the provision of this paragraph shall also apply to all third party content and any other content available through the service and the Internet. Client agrees that it will not in any way hold Vendor responsible for any selection or retention of, or the acts or omissions of, third parties in connection with the service.
5. Subject to the terms of this Service Agreement, Vendor might provide the Client with Internet addresses of public domain software used in DeLiberation™ Service. The Client is fully responsible for obtaining the rights to use the software that is elects to install on its network directly from the corresponding titleholders, as well as for its installation on the Client's own network and its subsequent support.
6. Subject to the terms of this Service Agreement, Vendor might also grant to Client a personal, non-exclusive, nonassignable and nontransferable license to use and display the DeLiberation™ Service additional software and utilities ("Software") developed by the Vendor on any machine(s) of which Client is the primary user. Unauthorized copying of the Software or the written materials and forms associated with DeLiberation™ is expressly forbidden. Client may not sublicense, assign or transfer this license or the Software except as permitted by Vendor. Any attempt to sublicense, assign or transfer any of the rights, duties or obligations under this license is void.
7. Client agrees not to publish on or over the Service any information, software or other content which violates or infringes upon the rights of any others or which would be abusive, profane or offensive to an average person. This paragraph, however, shall not be interpreted to restrict Client from utilizing DeLiberation™ mail in the conduct of a legitimate business. Client agrees not to use the facilities and capabilities of the Service to conduct any business or activity or solicit the performance of any activity which is prohibited by law. Client agrees to comply with all applicable laws, rules and regulations in connection with the Service or the Service Agreement.

This Service Agreement is made in Ottawa, Canada and shall be governed by and construed in accordance with the laws of the Province of Ontario, Canada. Any cause of action of Client or its designated users with respect to the Service must be instituted within one year after the claim or cause of action has arisen or be barred.
---
For more information, please contact us using email (preferred), fax or phone, at:
array (at) ARRAYdev.com
Phone: (613)733-0399
Fax: (613)248-4819
---
[Home]
[Previous]