[Home] [Directory] [Guestbook] [Advertising] [Press Release] [Update] [Français]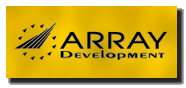 Directory of Diplomatic Representatives in Canada
---
ARRAY Development is offering free Internet access to its comprehensive online listing of over 150 embassies and high commissions accredited to the Canadian Government.
"Our Directory of Diplomatic Representatives is very useful to anyone planning a business venture or a recreational travel outside the country," said Nahum Goldmann, Vice-President, Research and Development at ARRAY Development. "It also demonstrates the enormous potential for embassies to reduce costs and improve service to the business community, researchers, journalists and all other Canadians who need information about conditions abroad."
The bilingual directory (http://www.ARRAYdev.com/commerce/emb-bck.htm) is the most up-to-date list of key contact people with their current phone and fax numbers. It includes new embassies not yet listed in printed references and even incorporates representatives who are not resident in Canada. A new and unique feature is that the directory provides direct links to Web Homepages of those embassies that offer online information.
"This directory demonstrates how leading-edge electronic publishing solutions can meet the real-world needs of both embassies and information seekers," Goldmann said. "Basic inquiries from travelers, business people or students can be handled economically and efficiently with a well-designed Web site. This eliminates the delays, costs and frustration of mailing or faxing basic information and frees embassy staff to deal with more complex issues."
Electronic publishing presents foreign embassies with a unique opportunity to promote their essential services to their clients. Internet provides an inexpensive way to maintain their visible presence in the National Capital Region, Canadian provinces and abroad, even when the embassies can not afford to maintain a physical presence. Moreover, it helps to make the Canadian public fully aware of the crucial role that the embassies play representing their countries.
To keep its Directory up-to-date, ARRAY Development encourages every embassy and high commission in Canada to examine and periodically update its listing.
ARRAY Development has built a solid reputation with high-quality reengineering and Internet consulting services. Using the Web and an assortment of advanced electronic tools for information gathering and dissemination on Internet, the Company helps government agencies, businesses, and corporate divisions to restructure their mission critical processes.
---
Please contact us using email (preferred), fax or by phone, to:
array (at) ARRAYdev.com
Phone: (613)733-0399
Fax: (613)248-4819
---
[Home]