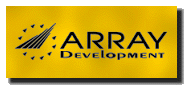 ---
© Copyright 1994-2010 ARRAY Development (Canada) Inc. All Rights Reserved
No documents, software, forms or databases contained within this site can be reproduced in whole or in part for the purposes other than the personal use of the viewer, without the express consent of ARRAY Development. If quoting, please cite the source.
For journal articles, unless specified otherwise, copyright remains with the original author(s) who retain control over any subsequent use of the material. Anyone seeking permission to reproduce such material will be referred to the original author(s) or the copyright owners.
The opinions expressed on this site are not necessarily those of ARRAY Development, its affiliates or personnel. Information presented on this site is compiled from the sources believed to be accurate. However, ARRAY Development is neither financially, nor legally, nor morally responsible for the veracity or use of this information.
ARRAY Development is absolutely not responsible for the content of messages placed by any third party on any or all of the interactive services provided by ARRAY Development. Note that the individuals posting libelous or defamation materials on ARRAY Development's interactive services are themselves assuming full liability for the consequences.
---